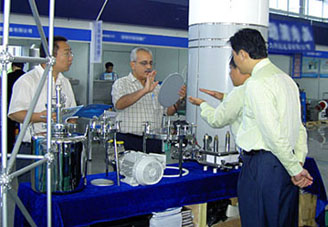 Hubei Filter filtering engineering Ltd. is a high-tech Chinese-foreign cooperative enterprises, registration of Hubei provincial trade and industry bureau, earlier promoting international advanced technology of ultrafiltration and microfiltration in China. Hubei Filter company have strong force and ultrafiltration experts on technology. Over the years, we service for hundreds of nterprises in china by very high rating.
In order to meet the needs of the China's pharmaceutical industry's development, we have set up a filter institute of technology.
On the basis of introducing advanced foreign technology, We develop a variety of passage filtering system, like FLT(Z)(F)(N) sries. It meet GMP standards and have many best features such as rational design、user-friendly 、regeneration ability、no leakage、durable、filter media use long cycle. It can be widely used in pharmaceutical、biological fermentation、food、seasoning goods、cosmetics and other materials to clarify filter. According to the characteristics of your product, We can offer all-round technical services such as design filter process、sample product test and the final production test Etc.
Hubei Filter's UF has advanced foreign technology uses membrane filters, It is a number of nano-filter technology. UF can be achieved through the purpose of removing impurities(bacteria, large particles, particles, glial, tannin, proteins, olysaccharides Etc.), especially in the production of traditional Chinese medicine, the indicators are better than other methods. Comparison of old technology, Filter's filtration System have many advantages, such as short production cycle, process simple, High quality, equipment is simple, low investment, high efficiency. It is the first choice of pharmaceutical filtration system.
In this, welcome all friends to visit company and common development!